Non verbal / Dance and visual theatre / + 4 years old

In Vuelos, choreographer Enrique Cabrera has captured the creativity and innovation of Leonardo da Vinci's exceptional inventiveness whilst retaining Aracaladanza's trademark playfulness and style.

This production inspires a sense of wonder in everyone who sees it, and encourages us all to allow our imaginations to take flight and make extraordinary things happen.

This is a delight to be shared by anyone who has ever dared to dream.

Let Vuelos take you on a magical journey filled with dance, extraordinary visuals and video projection, creating a totally original and truly unforgettable experience.


Vuelos is produced by Aracaladanza.

Co-produced by Sadler's Wells, Nottingham Lakeside Arts, Teatro de la Abadía and Comunidad de Madrid and with the collaboration of GREC 2016 FESTIVAL in BARCELONA.


THE PRESS SAID:

The designs and dancers are fabulous, and it is always engaging (there were plenty of children in the house and you barely heard a sound so rapt was their attention).
Birmingham Dance Festival's review. DAVID MEAD. Seeing Dance.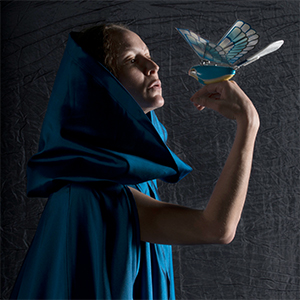 NATIONAL CHILDREN'S THEATRE AWARD 2010
MINISTRY of CULTURE of SPAIN

2011 BEST DANCE SHOW
on Tour 2010/2011 in SPAIN
Feria de Huesca Award

2011 MAX AWARD
for BEST CHILDREN'S SHOW

2011 MAX AWARD
for BEST COSTUME DESIGN

FINALIST 2011 MAX AWARD
for the BEST LIGHTING DESIGN